The epicenter for comprehensive endpoint security
Rapidly stop attacks, scale security resources, and evolve defenses across operating systems and network devices.
Rapidly stop threats
Gain the upper hand against sophisticated threats like ransomware and nation-state attacks
Scale your security
Put time back in the hands of defenders to prioritize risks and elevate your security posture.
Evolve your defenses
Advance beyond endpoint silos and mature your security based on a foundation for extended detection and response (XDR) and Zero Trust.
Capabilities
Gain a holistic view into your environment, mitigate advanced threats, and respond to alerts from a single, unified platform.
Eliminate the blind spots in your environment
Discover vulnerabilities and misconfigurations in real time
Quickly go from alert to remediation at scale with automation
Block sophisticated threats and malware
Detect and respond to advanced attacks with deep threat monitoring and analysis
Eliminate risks and reduce your attack surface
Secure your mobile devices
Simplify endpoint security management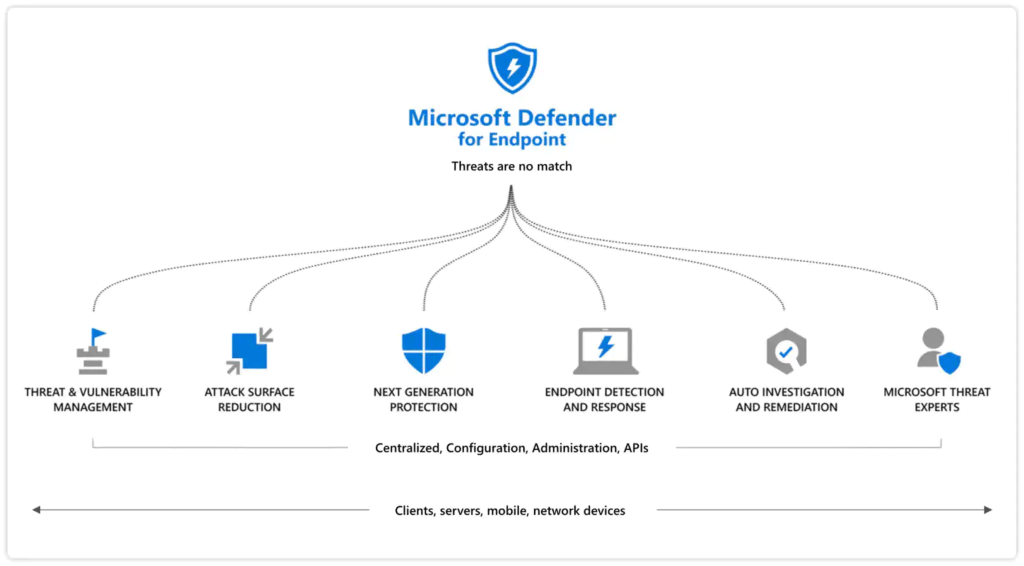 Microsoft Defender for Endpoint
Microsoft Defender for Endpoint empowers your enterprise to rapidly stop attacks, scale your security resources, and evolve your defenses by delivering best-in-class endpoint security across Windows, macOS, Linux, Android, iOS, and network devices. Feel confident in your security approach knowing Microsoft Defender for Endpoint provides the tools and insight necessary to gain a holistic view into your environment, mitigate advanced threats, and immediately respond to alerts all from a single unified platform.
Defender for Endpoint
directly integrates with various Microsoft solutions, including:
Microsoft Defender for Cloud
Microsoft Sentinel
Intune
Microsoft Defender for Cloud Apps
Microsoft Defender for Identity
Microsoft Defender for Office
Anything less than comprehensive security is not security at all
For many small and medium sized businesses, the future of the workforce relies on adapting a hybrid model that gives your employees the flexibility to work where and how they want. However, for SMBs to effectively operate with a remote and dispersed workforce, you need a security solution in place that protects your company's data and your users regardless of the device and location your employees access your company resources and data from.
Microsoft's security solutions are the answer to building a simple and effective solution for your business. Empower your employees to work where and how they want to allow them to provide the best results while Microsoft's tools protect your data and applications across cloud, on-premises, and hybrid environments. In addition to mitigating risks, Microsoft security solutions positively impact a company's bottom line.